SAND
(2021)
Shortlisted for the Thrown Contemporary Ceramics award at New Designers 2021.
Winner of highly recommended award by SCP.
Please get in contact if you wish to commission a SAND vase, or if you would like to know more about the process.
Prices for SAND Vases.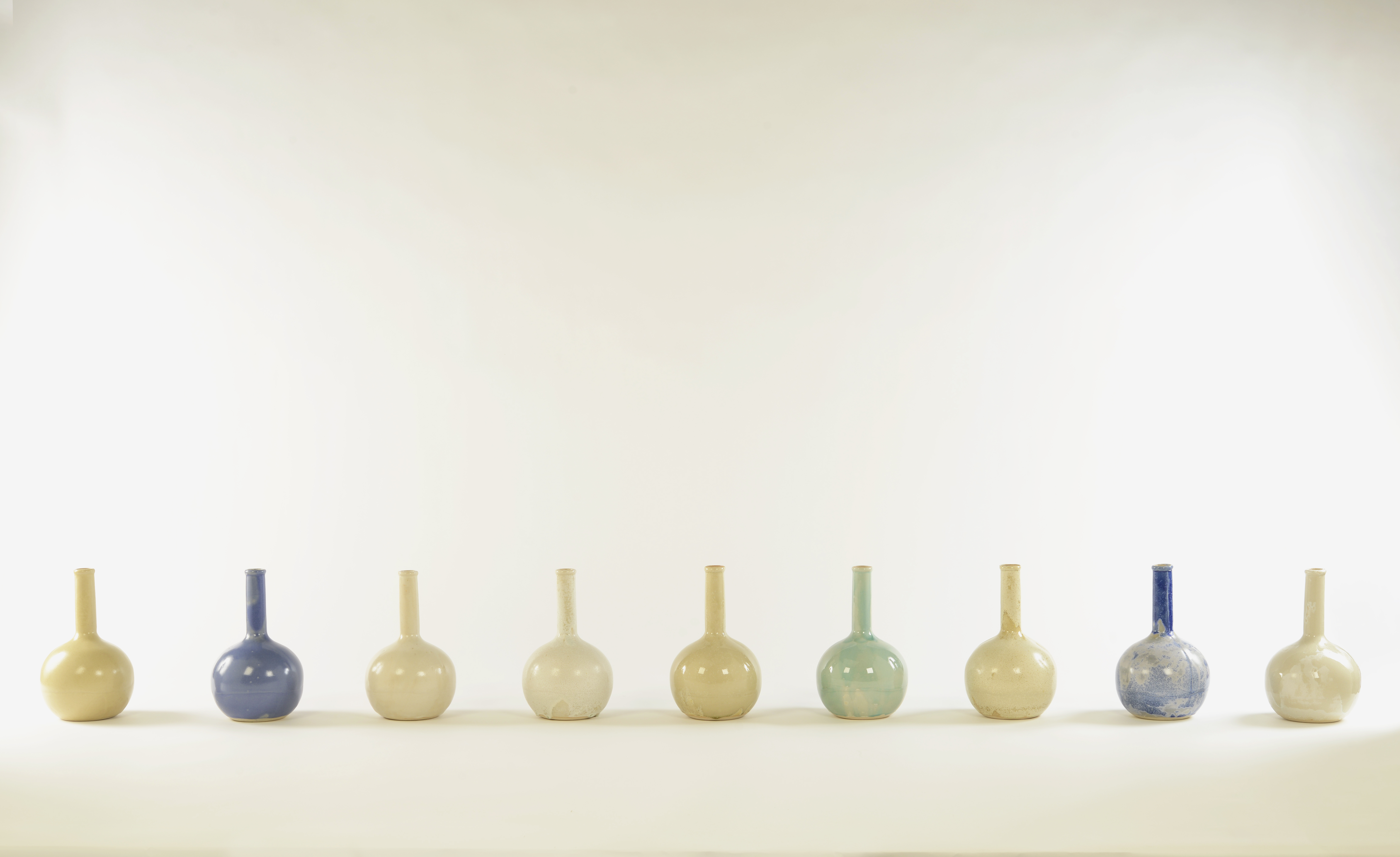 A response to the global sand crisis, showing ways in which ceramic glazes can develop to minimise impact on the sand shortage.

Ceramics tends to be viewed as a wholesome and natural antidote to mass production and machinery. This may be true in regards to the practice of making itself but when looking into the sustainability of it, there are lots of grey areas. The mining of raw materials is destroying our planet. Landscapes are being ruined, habitats destroyed and finite resources being used up. Throughout this project I have focussed on ceramic glazes. Instead of using raw materials I have sourced industrial waste and used this to create glazes.

I have approached this project as one would a science experiment, meticulously documenting glaze recipes and tests along the way to come up with a collection of vessels to exhibit my research. Inspired by laboratory glass, I created a mould to slip cast these forms to display the different tests. SAND is a visual representation of research to inform people of how sustainable practice can be implemented and the beauty that waste can create.


Referecing & Sources:
- Sourcing and processing of waste materials methodology for glazes has been adapted from the open source book "Circular Ceramics" by Sara Howard. Licensed under CC BY 2.0.
- Process of collecting and implementing the use of natural materials in glazes from the book "Natural Glazes: Collecting and Making" by Miranda Forrest.
- The use of industrial waste and research into converting them into ceramic pigments from Agne Kucerenkaite's "Ignorance is Bliss".
- The beautiful work of Studio ThusThat using byproducts of the alumina industry and transforming it into ceramic bodies and glazes., creating their collection "Red Mud".
- Ceramic glazes made from 100% industrial by-products that would otherwise go to landfill by Alusid. Now used in collaboration with Topps Tiles to provide sustainable alternatives in mass production.
- The 100% recycled ceramic dinnerware set by Granby Workshop, the world's first 100& recycled ceramic tableware.